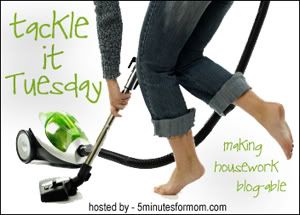 Yeah, it's been a while since I've actually tackled anything let alone on a Tuesday. I actually started my "tackle" on Sunday night since the boys left for cub scout camp and after Kyra goes to bed, I can actually tackle without having to worry about making too much noise. Honesly, I don't evne have "before" pictures because I was too embarassed by the mess that was my scrapbook room. HOWEVER - I am making giant strides in taming the wild beast and even went to Menards today and got some shelving. I am going to try to at least get everything set up tonight (I have to because the boys arrive home tomorrow morning). The sorting might have to wait until another day, but by this weekend, I may actually have a place to scrap again!
Tackle It Tuesday is a weekly meme on
5 Minutes for Mom
. Even though I haven't participated lately, I hope to try to get to this more often.